This weekend, the Charlie Charlie One team marked 40 years on from the start of the Falklands War by running the Reading half-marathon to raise money for Scotty's Little Soldiers.
Scotty's doesn't just help the children of serving military who have died in conflict, but also those killed in accidents, as a result of illness or by suicide.
Clare, Meredyth and Caroline ran the Reading half-marathon but Louise also joined in from Australia . . .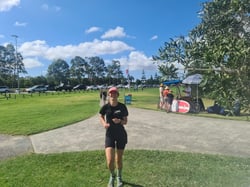 You can still donate via: https://www.gofundme.com/manage/cc1-reading-halfmarathon-2022
This charity resonated with the CC1 team, because many of us belong to military families or have a connection with forces communities. Clare, for example, has been through the uncertainty and concern for a loved one that long deployments and operational tours can bring.
Clare's story: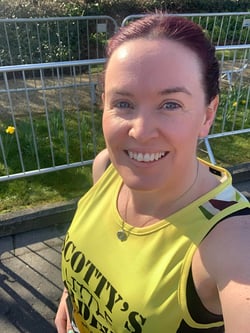 On hold . . .
That's what happens to life when your partner deploys. It's like someone pressed pause on your plans, holidays, fun and life just gets put on hold for 3,6, 9 months or however long they are away.
I know there are a lot of sad posts about deployment, alongside the "you've got this" sickly upbeat articles usually pumped out by welfare, but in truth everyone has their own style of dealing with things. For me it was all keeping the routine, keeping things as smooth as possible for the kids and keeping 'normal'. It was never about keeping busy, starting hobbies or making things magical. It was just mentally ticking off the days until deployment was over.
My kids were surprisingly resilient to my husband being deployed. I guess it's probably due to me being the one constant in their lives and they were used to my husband being away for courses or short exercises. They did miss him, but I found only talking about him when the kids mentioned him really helped. They found phone calls and facetime to my husband painfully hard and there were always lots of tears afterwards, so we tried to minimise the calls to lessen the pain for them and I kept him updated with videos and pictures of our everyday life.
For me, deployment is lonely, stressful and slow, filled with constantly attending weddings/birthdays alone, having to drag the kids along to your smear test because you have no childcare and hearing unsympathetic people say "well you knew what you were signing up for when you met him", but there are good parts – it's less laundry, no shaving, fewer clutter piles on the sideboard, no accidentally hoovering up those twisties that seem to be the army equivalent to the hairgrip and having coco pops or pop tarts for tea just because you can.
One day though, they arrive back into your life like a hurricane. It's like falling back in love all over again. You get butterflies when you see them, the excitement of spending time together as a family, lots of noise and tripping over the mountain of black grip bags and green stuff. The kids start giggling, we start planning trips and holidays and the sun shines again. It's possibly the happiest and most unique time that bonds all military families.
For my part, I now realise that I know of more military members or veterans who have died through self-harm than I do through conflict or accident. For military children who are bereaved through a parent's suicide Scotty's Little Soldiers provides essential through-life support giving them the professional bereavement support that they will need throughout their childhood and adolescence as well as offering opportunities and programmes to help make their lives better.
In June 2021, it was estimated that around 250 British service personnel and veterans have killed themselves since 2017, but no one is sure of the exact number because until September 2021 the Ministry of Defence didn't track UK veterans' suicides. Thanks to the work of people like Johnny Mercer MP and the Office for Veterans' Affairs (OVA) the Government is now collecting data over a 10-year look back which is said to be published this year and annual data collection with the first annual statistics to be published in 2023. Twin this progress with the amazing long-term work that the ADVANCE Study (Armed Services Trauma Rehabilitation Outcome Study) is doing, and as a nation, we should be setting ourselves up to better support our current and future veterans based on the understanding of real actionable data.
This is absolutely a step in the right direction and although one that is overdue will help to better improve the understanding of veterans' needs. If the UK is to become the 'best place in the world to be a veteran by 2028', we need more agencies and charities to collaborate and knowledge-share.
Charities that have benefited from grants from the Armed Forces Covenant Fund such as RFEA, the Forces Employment Charity and their TechVets programme as well as Veterans' Places, Pathways and People programme (VPPP) providers in the South East, Veterans' Outreach Support, are paving the way for grass-roots change not only for veterans but also their families. By improving the resettlement offer to service leavers and supporting them into jobs that are financially and mentally rewarding their chances of a successful life after the military become increasingly stacked in their favour. By providing opportunities for military partners and spouses to retrain and upskill, the burden on the veteran is eased and the barriers to employment often faced by service families due to frequent moves can be somewhat alleviated. In addition, the network of VPPP programmes that have recently been launched across the UK means that signposting support to veterans and a more joined-up approach to the provision of services available could be vital in achieving the OVA's 5-focal points for success by 2028:
- delivering a step-change in support
- maximising veteran employability
- addressing historic hurt or disadvantage- dealing with the legacy from historic operations
- ensuring a high standard of support from across the UK
This Utopian UK for veterans may seem unrealistic and unachievable but as a nation we have to keep championing the fact that the skills, experience and expertise our veterans and their families have to offer our country remain long after their military service ends.